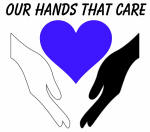 Our Hands That Care

LLC
Consumer Directed Services (C.D.S.)

• 314.361. 2178

ABOUT US

Our Hands That Care LLC is committed to having a staff of caring professionals that are licensed, certified, bonded and highly trained. The staff works in coordination with a patient's physicians to ensure the highest level of care possible.
Our Hands That Care LLC is the trusted choice for a wide array of medical services that includes Skilled Nursing & Therapy, Home Support Services. Whether you're recovering from illness, injury, or simply need extra help at home, we provide the level of care to meet your specific needs.

OUR VISION

Our Hands That Care LLC will be the home health care provider of choice for residents in the St Louis counties we serve. Our superior care will be delivered by well trained, dedicated professionals. These caregivers take pride in achieving the highest possible level of clinical outcomes and patient satisfaction. Our services will continually be tailored to meet the needs of your love ones..
Copyright © 2013 Our Hands That Care All rights
reserved worldwide. Created by FX Graphics.